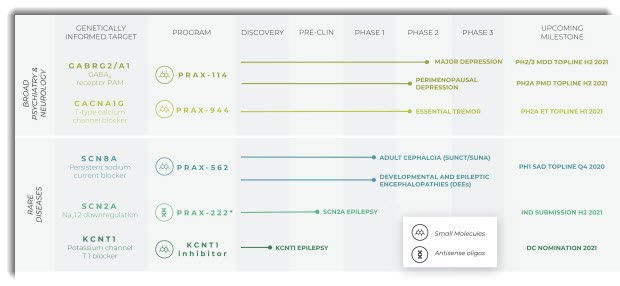 2020-10-11
Quick Take
Praxis Precision Medicines (PRAX) has filed to raise $126 million in an IPO of its common stock, according to an S-1 registration statement.
The firm is developing drug treatment candidates for central nervous system disorders.
PRAX has produced intriguing early efficacy results for its lead candidate and the IPO, while not cheap, is worth consideration.
Company & Technology
Cambridge, Massachusetts-based Praxis was founded to advance a pipeline of treatments for both broad psychiatric-related and rare diseases of the central nervous system having to do with neuronal imbalances.
Management is headed by president and Chief Executive Officer Mr. Marcio Souza, who has been with the firm since April 2020 and was previously Chief Operating Officer at PTC Therapeutics.
Below is a brief overview video of symptoms of major depressive disorder:
Source: Psych Hub Education
The company's lead candidate, PRAX-114, is being developed to treat major depressive disorder as both
…
Read More