Republicans to deliver their stimulus plan, Trump renews campaign against Huawei and virus spreads in heart of Europe.
Less is more
It's the turn of Senate Republicans to try solving the impasse over virus relief. They are preparing a scaled-back stimulus bill that would include a $300-a-week enhanced unemployment benefit, money for small business aid, additional U.S. Postal Service funding and protection for employers against lawsuits stemming from Covid-19 infections, according to an aide. In the House, Democrats will add $25 billion in funding for the Postal Service to a measure scheduled for a Saturday vote that would prohibit cutbacks in service before the elections, people familiar said. There's a measurable downside to the Congressional bickering, according to JPMorgan Chase & Co. strategists. They estimate that each month the Federal Pandemic Unemployment Compensation is delayed subtracts 0.4% from GDP. The "ongoing drag from the U.S fiscal cliff" will also keep pressuring the dollar, they wrote in an Aug. 14 note.
On the warpath
As his opponent Joe Biden takes to the podium at the Democratic National Convention, President Donald Trump continued his campaign against China and its tech complex. The U.S. announced further restrictions on Huawei Technologies Co. aimed at cutting the Chinese company's access to commercially available chips, a move likely to crimp the firm's 5G base stations and smartphone business. Meanwhile, Oracle Corp. jumped into the arena of bidders for part of TikTok's business, putting it in competition with Microsoft Corp. to acquire the viral video streaming app, according to people familiar with the matter. Trump on Friday ordered ByteDance to sell its U.S. assets within 90 days.
Virus update
Fresh travel restrictions within Europe may look more likely as Germany records the highest number of new coronavirus cases in almost four months. A breakout in South Korea continued, with 246 more cases reported Tuesday, as the country banned large gatherings in and around Seoul. The U.K reported the lowest tally of deaths in 20 weeks. As a reminder: Global cases now top 21.8 million, with deaths passing 774,000.
Markets mixed
Investors looked past fresh tensions between Washington D.C. and Beijing over Huawei. Overnight, the MSCI Asia Pacific Index added 0.3%, while Japan's Topix index was little changed. In Europe the Stoxx 600 Index was 0.3% higher by 5:36 a.m. Eastern time. S&P 500 futures pointed to a higher open, the 10-year Treasury yield was at 0.67% and gold climbed back above $2,000 an ounce. Oil was little changed.
Coming up…
On the economic front, July housing starts and building permits arrive at 8:30 a.m., while Treasury will sell $60 billion of bills at 11:30 a.m. The Democrats' national convention continues, with broadsides against Trump over his handling of the pandemic and the shattered economy. Earnings include Walmart Inc. and Home Depot Inc.
What we've been reading
This is what's caught our eye over the last 24 hours. 
And finally, here's what Joe's interested in this morning
The economic data continues to demonstrate that we're living through one of the strangest crises ever. Many of the contradictions are well known. Unemployment is sky high, yet household income has grown since the start of the year. Meanwhile the housing market is booming. And yet homeowners are in trouble. Here's a chart put together by my Bloomberg TV colleague Dan Curtis that shows the oddness. The teal line is from yesterday's homebuilder sentiment report, which is at record levels. It gauges customer buyer traffic, and it's through the roof as more and more people are looking at homes. The white line however shows the quarterly rate of mortgage delinquencies. It's also soaring. You can look back, and see that this just doesn't typically happen. Normally when delinquencies are soaring, (such as the last crisis) there aren't a lot of new homebuyers out there. And vice versa, usually when there's a homebuying boom, the conditions are such that delinquencies are low. There's a lot of confusion about what's going on, and charts like this are part of the reason why.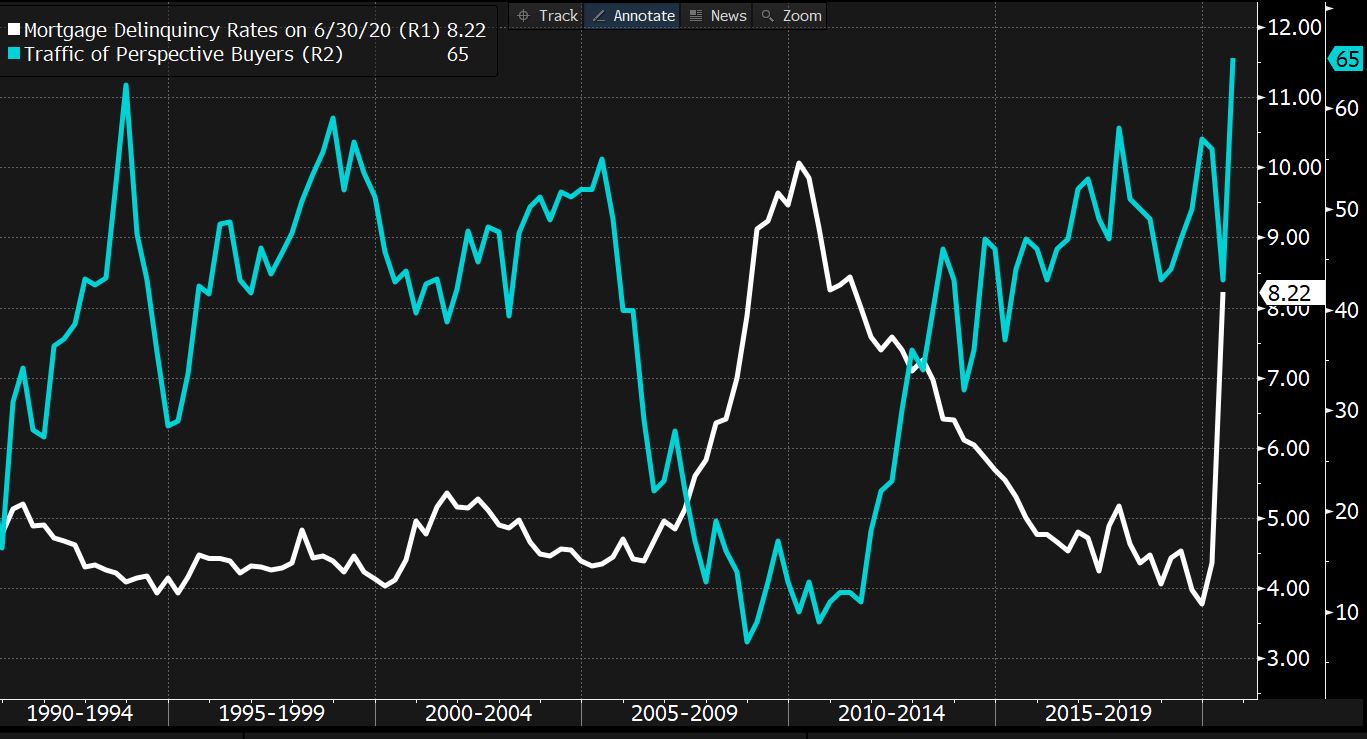 Joe Weisenthal is an editor at Bloomberg.
Like Bloomberg's Five Things? Subscribe for unlimited access to trusted, data-based journalism in 120 countries around the world and gain expert analysis from exclusive daily newsletters, The Bloomberg Open and The Bloomberg Close.