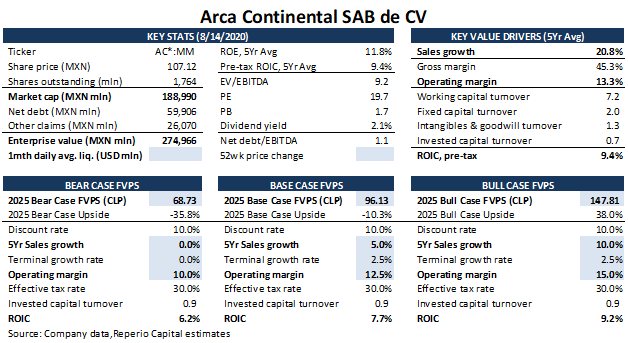 2020-08-18
Executive Summary
Arca Continental

(OTCPK:EMBVF)

(OTCPK:EMBVY)

is slightly overvalued with 10% downside to the 2025 base case FVPS.
It has exclusive rights to manufacture and distribute Coca-Cola products in Mexico, the United States, Peru, Ecuador, and Argentina. The company also has a snacks business in Mexico, the United States, and Ecuador.
Over the last five years, the Mexican business (39% of 2019 sales) grew revenue at an annual rate of 9.8% with volume growing by 3.9% per year and average selling price (ASP) increasing by 5.7% per year. Arca's Mexican business was also very profitable with a five-year average return on assets (ROA) of 17.4%.
The United States business (33% of 2019 sales) is two adjacent territories that were both acquired in 2017 for MXN38.9 billion, which equals 0.75 times revenue and 9.9 times operating income. In 2019, the US business grew sales by 5.6% driven by increases in ASP.
…
Read More