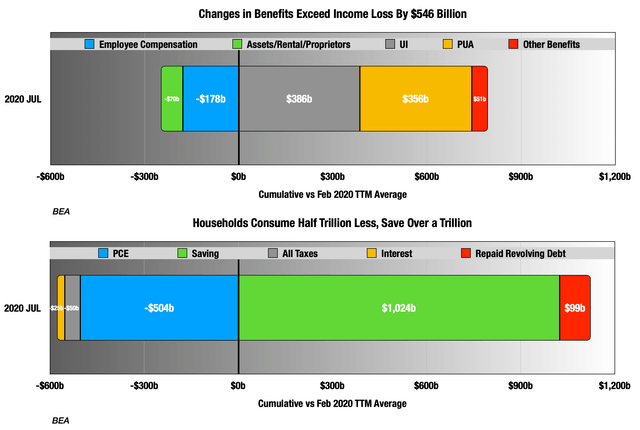 2020-10-01
Flood Week
Usually, the monthly PCE/Inflation/Income data and the Jobs numbers come out a week apart, with the former on the last Friday of the month and the later on the first Friday of the next month. But, this month, we are getting both back-to-back, so there is going to be a lot to look at before the weekend.
August Income
The changes in household balance sheets have been extraordinary. Looking at it cumulatively since March versus the February TTM average: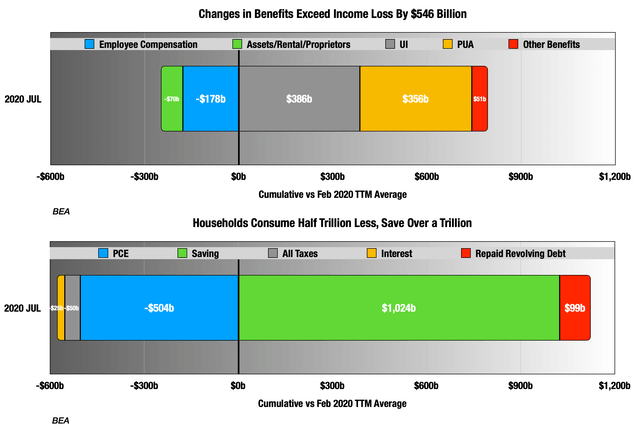 Versus the incoming February TTM average, households:
Earned $248 billion less;
But received an additional $793 billion in benefits, a surplus of $546 billion.
They consumed $504 billion less;
And paid $75 billion less in taxes and interest.
They took some of the savings and paid off $99 billion in revolving debt.
The net result is over a trillion dollars in excess savings.
Add that trillion dollars to:
…
Read More