Welcome to the Brussels Edition, Bloomberg's daily briefing on what matters most in the heart of the European Union.
The continent's buildings urgently need upgrades to become more energy efficient, the European Commission will say today. The so-called "renovation wave" strategy is another brick in the wall of rules, guidelines and financing tools that will drive the transition to a zero-carbon economy, otherwise known as the European Green Deal. As we reported previously, the bad news is that the ambition to double the renovation rate of the continent's building stock will cost a lot — some 275 billion euros a year in additional investment, by the Commission's own estimates. The good news is that renovation has been identified as one of the "flagship" priorities of the recovery fund, meaning that governments will be forced to co-finance the expenses if they want to tap the proceeds from the jointly-backed pot.
Nikos Chrysoloras and Viktoria Dendrinou 
What's Happening
Brexit Stalemate | It's almost official. EU leaders will tomorrow declare "with concern" that there hasn't been sufficient progress in talks on a Brexit deal, according to a draft of their communique. Leaders will also invite Michel Barnier to continue trying for an agreement that "can be applied as of Jan. 1" and vow to step up contingency preparations for a no-deal. Boris Johnson, who has a call with the European Commission president today, has threatened to walk.
Gloomy Outlook | Policy makers discussing how to avert a wave of debt defaults in poorer nations will find little solace in the IMF's latest outlook when they gather for the fund's (virtual) annual meetings this week. The IMF forecasts that world GDP will shrink by 4.4% this year, a less-dire view than its earlier projections following massive stimulus from central banks and governments but still the deepest contraction since the Great Depression.
Budget Tussle | What's 39 billion euros between friends? That's the question due to be discussed today between EU lawmakers and Germany, which represents national governments, in negotiations over the bloc's budget and jointly-financed recovery plan. With slim chances that the money impasse can be broken on this basis, and a separate spat on the rule-of-law looming, the timely introduction of the recovery fund could be in danger.
Antitrust Fines | For U.S. tech giants, massive antitrust fines matter less than being ordered to change the way they do business. That's according to a veteran EU official involved in imposing some of the biggest-ever penalties. Here's our interview.
Virus Update | Johnson & Johnson paused its Covid-19 vaccine trial because of a participant's unexplained illness; soccer superstar Cristiano Ronaldo tested positive; and Polish Premier Mateusz Morawiecki has gone into quarantine. Here's the latest.
In Case You Missed It
Euro Boost | Europe is set to become the world leader in green bond issuance and one of the side effects could be a stronger currency. That's the view of Standard Bank, which sees the euro rising to $1.30 in a year's time, spurred in part by the EU's plan to sell 225 billion euros of green debt as part of its pandemic recovery fund.
Airline Woes | Airlines and airports said EU moves to help restart flights in the region through a more coordinated approach to travel curbs are wholly inadequate. The measures, adopted yesterday, fail to propose the replacement of quarantine requirements with coronavirus tests and won't stop states refusing entry from other EU countries, they warned, as nations across the bloc are sharpening restrictions.
Trade Wars | The WTO ruled yesterday that the EU can impose tariffs on $4 billion of American exports over illegal state aid the U.S. provided to Boeing. While the bloc has drawn up a list of products targeting politically important industries for President Donald Trump and his Republican allies, officials say it will likely hold off until after the Nov. 3 election in the U.S. to see if a deal is possible.
Electric Cars | Sales of electric vehicles in Europe are growing at such a pace that the continent looks increasingly likely to outpace China in the near future, according to a report by automotive research firm Jato Dynamics. Still, the report found that Europe and the U.S. still have a few things to learn from China, including prioritizing affordability, centralizing planning, and harnessing data to better understand consumers.
More Aid | EU aid rules were loosened again to allow governments to cover up to 3 million euros of companies' fixed costs, as the European economy suffers the steepest recession in living memory. Subsidy rules that usually stop governments from funneling cash to companies were relaxed this year and the commission is now extending the looser rules until June 2021.
Chart of the Day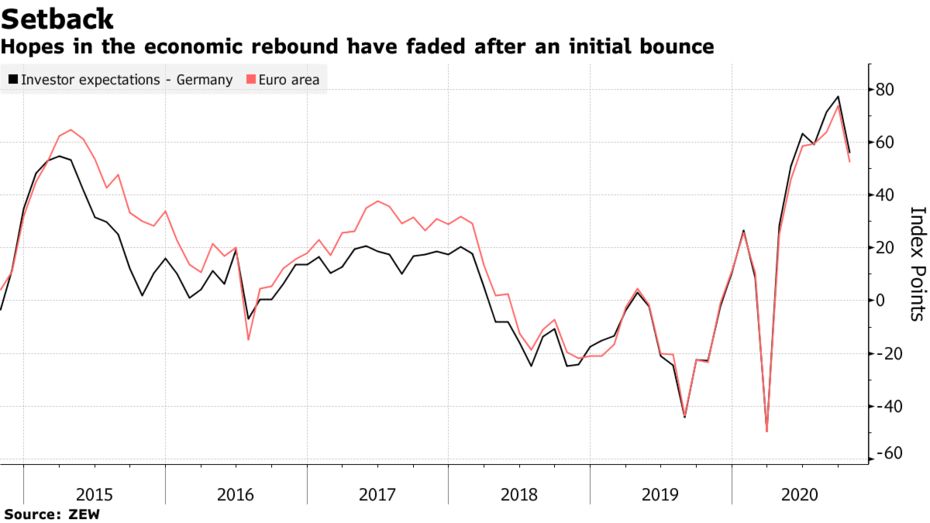 Investor confidence in the outlook for Germany's economy plunged, in a sign of concern that resurgent infections could hurt the recovery. A gauge by the ZEW dropped to 56.1 in October — the lowest in five months — from 77.4 in September, below even the most pessimistic estimate in a Bloomberg survey. The measure for the euro area also dropped.
Today's Agenda
All times CET.
11 a.m. Eurostat to publish August industrial production reading
2 p.m. EU Justice Commissioner Reynders speaks at CERRE event 
2:30 p.m. European Committee of the Regions debate with EU Economy Commissioner Gentiloni
3 p.m. EU Commission VP Jourova speaks at Lisbon Council event 
EU antitrust chief Vestager delivers speech via virtual platform at the European Recovery Series
EU Commission unveils proposal for mass, publicly-co-financed renovation of continent's buildings
Finance Ministers, Central Bank Governors take part in G-20 meeting
Like the Brussels Edition?
Don't keep it to yourself. Colleagues and friends can sign up here. We also publish the Brexit Bulletin, a daily briefing on the latest on the U.K.'s departure from the EU. 
For even more: Subscribe to Bloomberg All Access for full global news coverage and two in-depth daily newsletters, The Bloomberg Open and The Bloomberg Close.
How are we doing? We want to hear what you think about this newsletter. Let our Brussels bureau chief know.